CHERRY GROVE SCHOOL
Cherry Grove School was located in Section 3 of Tennessee Township in western McDonough County, Illinois. The school building was located on the north side of North 1100th Rd, west of the intersection of that road with the Tennessee-to-Blandinsville blacktop. (As of 2004, there is a building of similar style located across the road south and west of the original location - perhaps the old school building was moved there.)
The photo of students below is dated 1892, and names of the students were hand-written on the back. Photo from the collection of Ina White Westfall, daughter of Ernest Lee White (pictured) & Maud Diamond White.
The photo of the school building, below, was taken in 1940 by Amy Diamond.
Many of those pictured below were descendants of Sarah (Small) and Thomas White, who settled in the area in the 1840s. See the "key photo " below the photo for names.
Aura Mourning (teacher)
Marion Moon (m. May Gordon)
Maud White
Pearl McClure (m. Jesse Owens)
Jim Moon
Ida James (m. Willis Reece)
May Nash
Lee James
Bert Welch

Amy Dixon (m. Rollie Osborn)
Olive McClure (m. Sam Diffenderfer)
Lula McClure (m. Jack Henderson)
Clara Dixon (single)
May James (m. Will Reid)
Martha James
Charlie Moon (m. Lou Badger)
Nellie McClure (m. Walter Kirk)
Alice Moon (m. Fred Gordon)

Grace Nash
Tillie Paul
Wesley Welch
George Gardner
Edith McClure (m. Ira Norris)
Maudie Blankenship
Blanche James (m. Lyle Renshaw)
Nellie James
Ernest White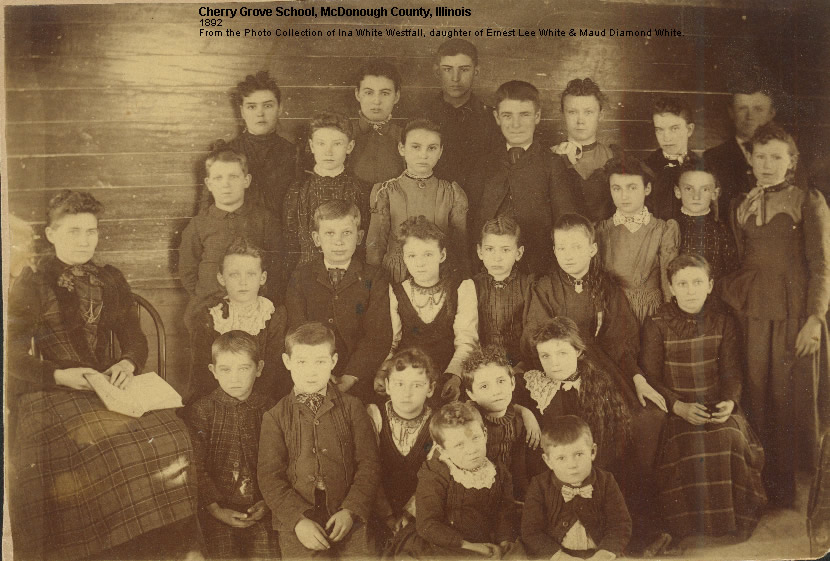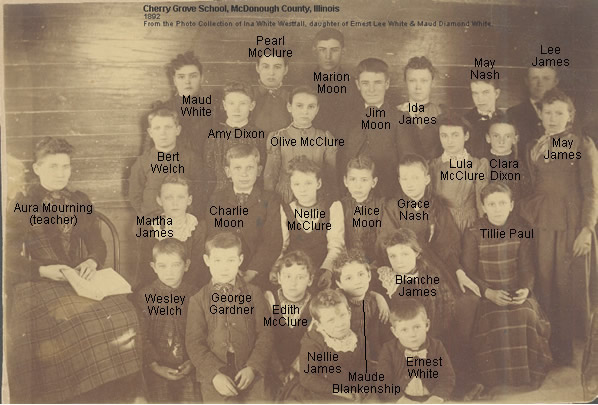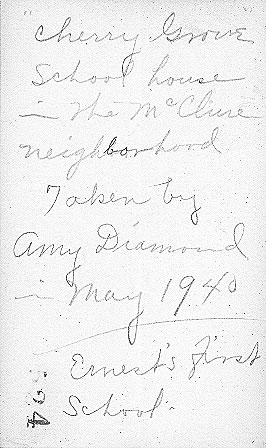 ---
---
McDonough County ILGenWeb Copyright