CEMETERIES
Stickle Cemetery
Emmet Township, McDonough County, Illinois
Private Property
Nov 2004
Top 3 photos taken from Emerson road, facing west.
All photos taken within a few feet of each other, and there is
a grass driveway into the area at this point.
Cemetery is "visible" in the trees.
Center photo shows sign which says NO TRESPASSING.
Right photo shows south edge of large pond.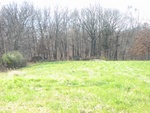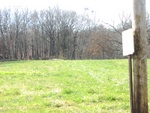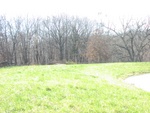 Larger photo below is an enlargement/enhancement of left photo above.
In the center of the photo, above the orange object, you can
see several tombstones.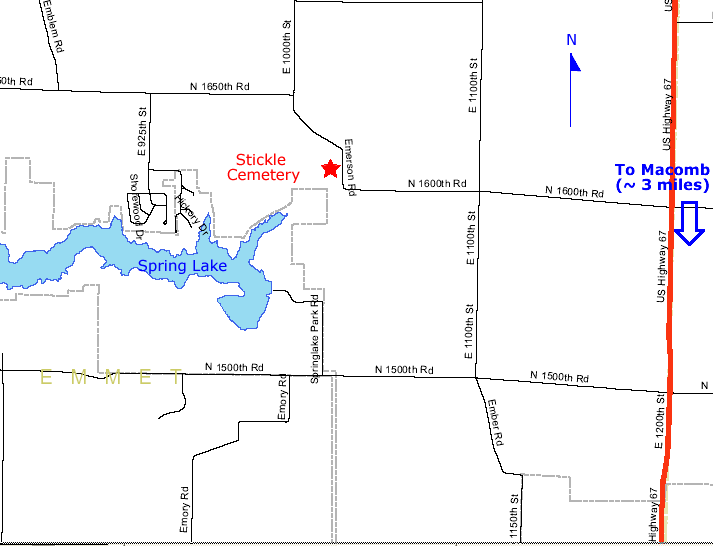 Go north from Macomb on US 67 North, about
3 miles to N 1600th Rd (this is marked as Airport Road.
The airport is east and you turn west.
Go about 1 3/4 miles (past 1 crossroad) and turn north
as the road turns north becoming Emerson Rd.
The cemetery is on the west side of Emerson Rd not far (1/8 mi?)
after you turn to the north. You can see it from the road,
but it's about a 1/8-1/4 mile west of the road across a grassy
area. There is a pond on the north side of the grassy area.
Next to the turn off is a "No Trespassing or Private Property
sign".
GPS Coordinates at the road (WGS84) Lat 40° 31.013', Lon -90° 42.526'